The LGBT community has come a long way in a short amount of time, Queery welcomes everyone and anyone to find answers to their Queer questions. Queery wants people to feel comfortable in asking questions for themselves to further understand the LGBTQ community, and all the people in it. 
Queery's campaign aims to educate and lift up the LGBTQ community, a website where you should be able to see yourself, your friends and your community represented.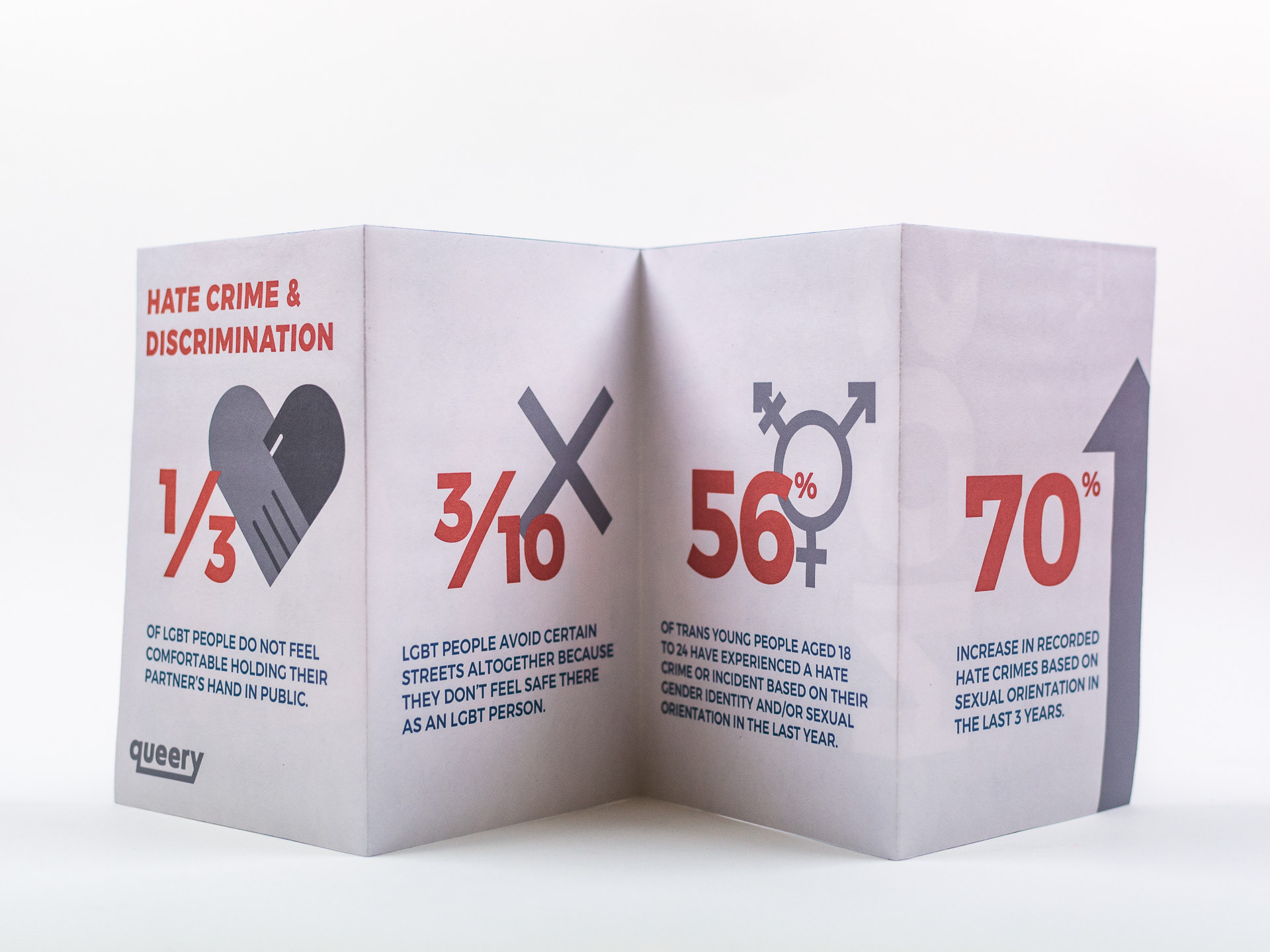 Queery aims to educate and lift up the LGBTQ community through a campaign that includes a set of concertinas which explores aspects of the community; Laws, Hate Crime & Discrimination, Sexuality and LGBTQ Icons. When unfolded the 4 concertinas show a relevant poster on the back that relates to the 4 topics. The campaign is aimed at young people 16-24 years old at school or university as well as teachers, family and friends who want to learn more about the community!
LGBT National Survey
Since 1967, when Parliament partially decriminalised male homosexual acts in England and Wales, the UK has made significant progress to advance equality for LGBT people. 
Despite this progress on legal entitlements, research and evidence has continued to suggest that LGBT people face discrimination, bullying and harassment in education, at work and on the streets, hate crime and higher inequalities in health satisfaction and outcomes. 
In July 2017, the government launched a nationwide LGBT survey. The survey, which ran from July to October, asked LGBT and intersex people for their views on public services and about their experiences more generally living as a LGBT person in the UK. The survey received over 108,000 valid responses, making it the largest national survey to date of LGBT people anywhere in the world. In addition, respondents had to be willing to self-identify as LGBT; these people may have a different experience to those who are unwilling to identify in this way, even in an anonymous survey.
Most of the text written was from the National LGBT Survey. The term LGBT is specifically referenced in the survey rather than LGBTQ, Queer or other terms.
TV & Film
Examining the representation of LGBTQ characters across Film and Television in the United States through reports by GLAAD and USC Annenberg.
Film
In the 100 top-grossing movies of 2017, sampled from Box Office Mojo, a total of 4,403 characters were evaluated for apparent sexuality. There has been no change over time in the depiction of LGBT characters on screen out of 400 popular films from 2014 to 2017. These infographics show the representation of LGBT characters in the Top 100 grossing domestic films in the United States of 2017. 
Television
This year, GLAAD has found a record-high percentage of LGBTQ series regulars on primetime scripted broadcast television, and television is beginning to tell groundbreaking new stories of communities that have long been left off-screen. GLAAD's annual Where We Are on TV report forecasts the presence of lesbian, gay, bisexual, transgender, and queer (LGBTQ) characters for the 2017-2018 television season. Counts are based on original scripted series premiering or which are expected to premiere a new season in primetime between June 1, 2017 and May 31, 2018 for which casting has been announced and confirmed by networks.